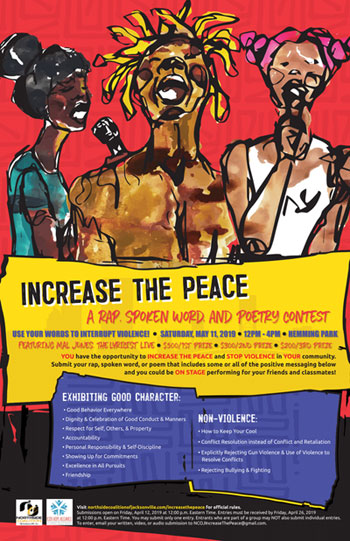 Increase The Peace - Spoken Word, Rap And Poetry Contest
Increase the Peace, an educational campaign and competition to interrupt and challenge the norms of violence. This is a violence intervention program that brings students into the spotlight through their use of positive, creative language.
Expressed through rap and poetry/spoken word, students will become advocates of non-violence, role models, and positive influencers for their schools and neighborhoods. As social psychologist Robert Cialdini reminds us, "The mere perception of the normal behavior of those around us is very powerful."
> WIN $$$ CASH MONEY AND SHOW OFF YOUR TALENTS LIVE ON STAGE!
> THIS IS A SPOKEN WORD, RAP AND POETRY PERFORMANCE COMPETITION!
The Northside Coalition of Jacksonville is inviting all high school students to apply their performance skills to address the critical issue of violence in our community. Students are encouraged to use positive words and themes in their Spoken word, Rap or Poetry performances.


INSTRUCTIONS
YOUR SPOKEN WORD, RAP OR VIDEO PERFORMANCE MUST BE THREE (3) MINUTES OR LESS.
ALERT: TO ENTER THE CONTEST, UPLOAD EITHER AN AUDIO OR VIDEO FILE OF YOUR PERFORMANCE TO: (http://bit.ly/2VCadnO) BY FRIDAY, APRIL 26th, 2019.
The Northside Coalition and its collaborating partners will give away the following cash prizes to the top three winners:
1. $500 for 1st place
2. $300 for 2nd place
3. $200 for 3rd place
The contest final will be held on Saturday, May 11th from 12:00-4:00 pm at Hemming Park. This event will feature Mal Jones, "The Lyricist LIVE"!!
Entertainment & Food Trucks For the Whole Family! Please join us as we INCREASE THE PEACE!!!
If you have additional questions, please contact The Northside Coalition of Jacksonville at (904) 321-9404 or This email address is being protected from spambots. You need JavaScript enabled to view it..